Gamble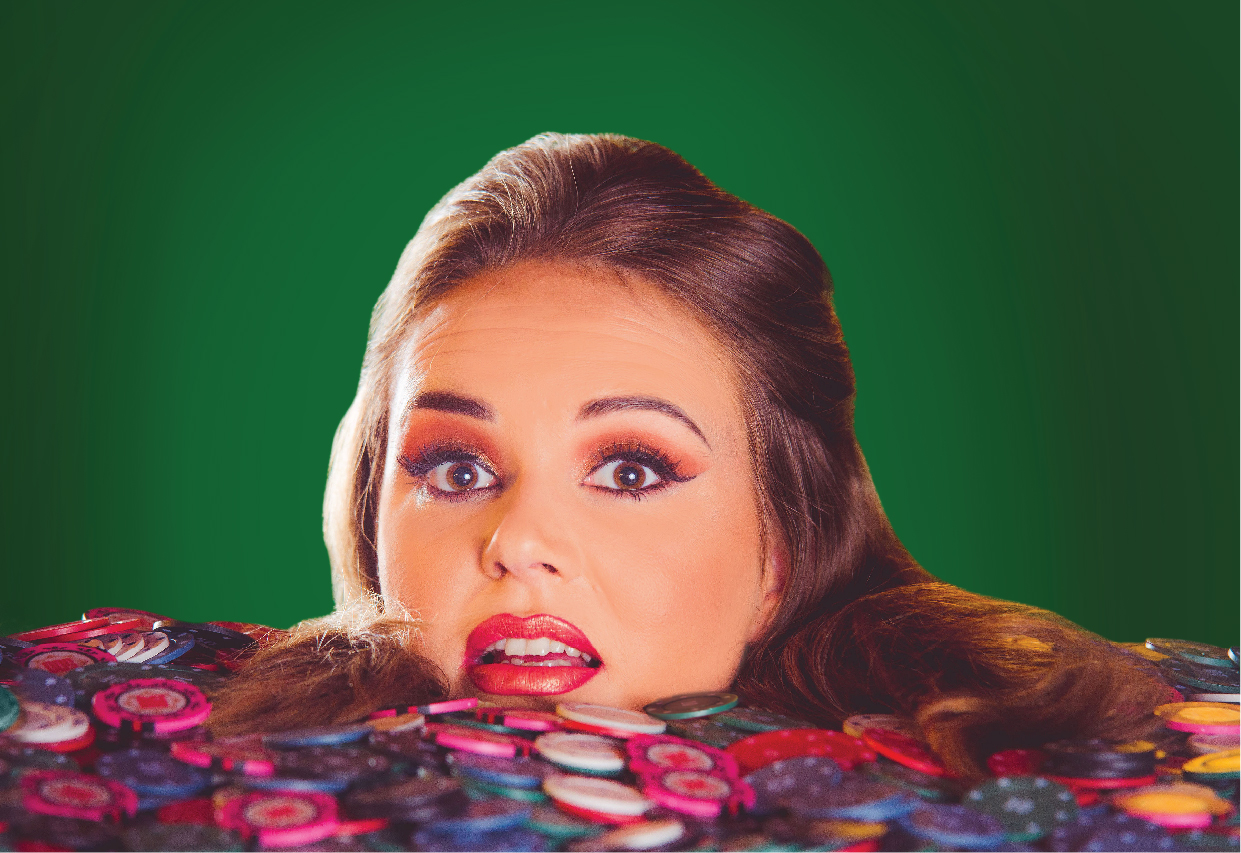 £1? That's enough to get us going...
A glittering, glamourous peek into the spectacular world of online gambling.
All performances are Integrated BSL Interpreted
GAMBLE is a bittersweet multimedia show about addiction and its effect on families, friendships and communities. It challenges the stereotypes attached to compulsive gamblers through a personal narrative and is informed by interviews with industry experts, health professionals, people in recovery, and their loved ones.
Hannah used to think gambling was all about the big wins at the village monthly bingo. Then she moved to the BIG, bright city of Newcastle… and had huge nights at the casino. A decade later the gambling industry is all about online and BIGGER than ever!
The UK gambling industry is worth £14.3 billion and it's estimated that there are around 24 million people in the UK who participate in online gaming. That's about 44% of the entire adult population. Gambling has the highest rate of suicide of all the addictions. Research indicates that there are between 250 and 650 gambling related suicides every year in the UK… a minimum of one every working day.
Nothing will ever be any easier than being able to open your phone, log in online and start gambling, all within the comfort of your own home alongside those you love most.
All day.
All night.
Every second.
Right.
NOW
Each performance is followed by a post-show discussion with Dr Matthew Gaskell - Clinical Lead & Consultant Psychologist for The NHS Northern Gambling Service.
Trigger warning:
Gambling (live play, images, sounds) which may be very triggering to people with a gambling addiction or who are in recovery. References to mental health conditions.
The Creative Team:
Creator and Performer: Hannah Walker
Co- Creator: Rosa Postlethwaite
BSL Integrated Interpreter: Faye Alvi
Deaf Consultant: EJ Raymond
Creative Developer and Digital Artist: Paul Trickett
Director: Paula Penman
Lighting Designer and Stage Manager: Craig Spence
Original Music: Jamie Cook
Mentor: Amy Golding
Helplines:
Gambling with Lives07732 958 306info@gamblingwithlives.org
Gambling Support North East (funded by Gamble Aware)0808 278 7902gssnortheast@citizensadvicegateshead.org.uk
GamCare0808 8020 133
NHS Northern Gambling Service0300 300 1490referral.ngs@nhs.net
NHS National Gambling Helpline 0808 8020 133
Gamblers Anonymous07771 427 429info@gamblersanonymous.org.uk
GamAnon (for friends and family members)newcastle@gamanon.org.uk
Smart Recovery0330 053 6022
Photography by picturesbybish